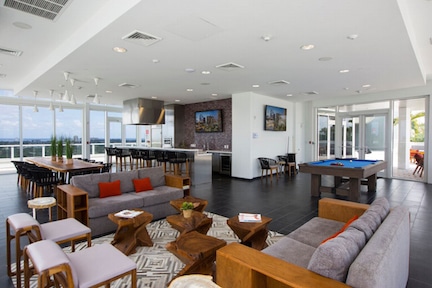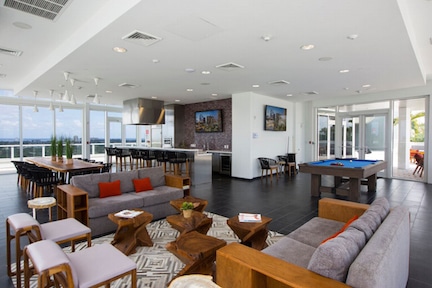 South Florida developers and architects are challenged to attract millennials by meeting both the price points and features that millennials are seeking. Multifamily residential developers must even re-think pricing, technological amenities, transportation and parking elements if they want to attract young buyers and renters. Architecture and design firm Stantec in Miami is implementing co-working spaces, communal kitchens and billiard lounges in their designs to appeal to this growing population. Their projects offer residents all the modern amenities to be expected of an upscale apartment community in an urban setting. According to Jon Cardello, Vice President of Stantec's Miami office, "communal kitchens, like the ones at Vu New River in Fort Lauderdale, are a popular amenity for millennials. They are more likely to eat out or order takeout than cook at home, so they can have smaller kitchens in their apartments. The communal kitchens, with several ovens and a host of cooking appliances, allow them to throw parties and host family gatherings."
Developers in South Florida are changing how they plan and design homes to attract the fast-growing millennial population, a group that faces unique challenges in the residential market.
Their construction initiatives are critical to preserving the building industry's future bottom line. But businesses and cities have a stake, too. With more than 75 million people nationwide, the millennial generation will soon make up the heart of the workforce, and companies will decide to locate and grow in communities that can attract them.
"We are competing more with other cities in other states for housing options for them,'' said Art Falcone, managing principal of Boca Raton-based Encore Capital Management.
For local developers, millennials present a huge opportunity – and a big challenge. The tri-county region ranks near the bottom among major metropolitan areas for millennials as a share of the total population, and leads the nation for the highest percentage of young people living with their parents.
High housing prices, below-average wages, and a strained transportation network present major obstacles to homeownership for millennials here. Deep college debt also means many recent graduates are on a tight budget, so they must be prudent with housing costs.
But developers are adapting, offering price points and features that differ from South Florida's traditional garden apartments and country club communities to appeal to millennials.
To read the full story, visit South Florida Business Journal.
https://obrmarketing.com/wp-content/uploads/2018/03/4.3.18-Stantec-Blog.jpg
288
432
admin
https://obrmarketing.com/wp-content/uploads/2015/01/logo.png
admin
2018-04-03 14:17:10
2018-04-03 14:17:10
Stantec Designing Amenity-Driven Residential Buildings to Attract Millennials