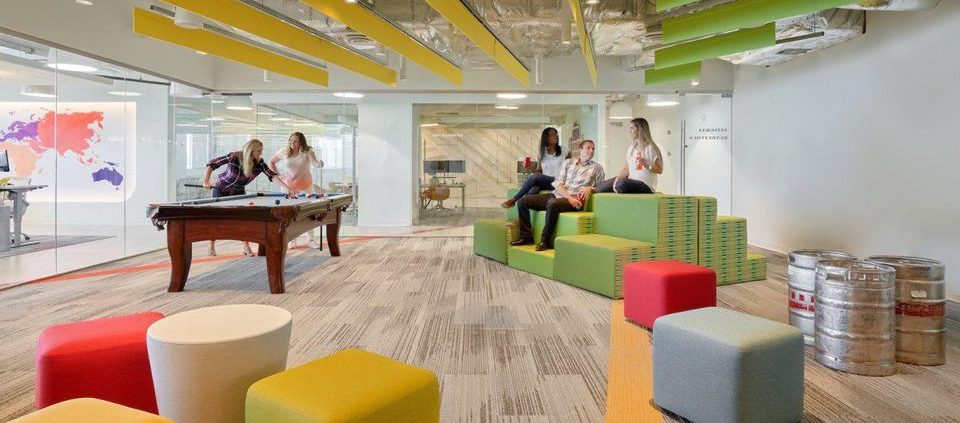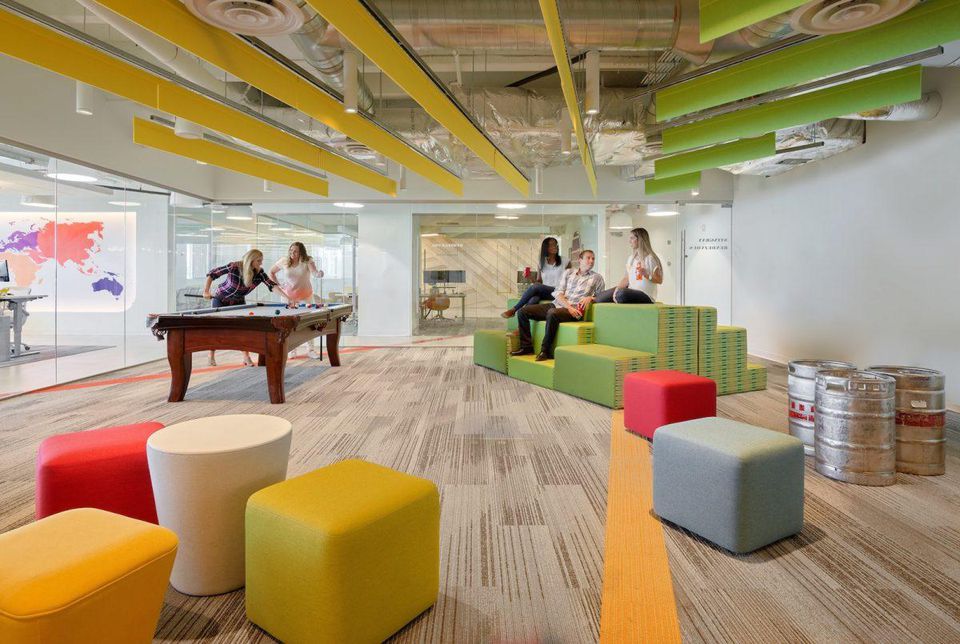 When you think of an office, grass-colored carpets with cabanas, a pool table and hanging lounge chairs probably don't come to mind, unless you work at Wix. Wix's new office in Miami Beach redefines the office setting. Although they do a lot of web building, they left the architecture and design of the office to Stantec in Miami. Stantec kept in mind what Wix stands for and their innovative work ethic. They created a bright and energetic space with a lot of natural light, colors, and unique features, which were recently shared on Forbes.
Web building and design disruptor Wix has made it simple and fun for people of all skill levels to drag-and-drop design a business website. The platform is praised for its intuitive UX, attractive designs and supportive community. I took a tour through Wix's Miami office, and chatted with Shelly Cohen, head of WixStores Business Development, and with U.S. Operations Manager Dax Pedraza about how Wix's physical work spaces reflect the company's open-minded and collaborative philosophy.
Regardless of what continent or country the office may be, "Wix has an open-minded environment and a unique vibe—and it starts with the office design," says Cohen.
The interior design of every Wix office is characterized by bright colors, clear windows and proximity to the beach. In Miami, the office is located within footsteps of the Lincoln Road pedestrian thoroughfare, not to mention many famous restaurants and nightspots. That being said, the office still feels like a workplace—distant from the chaotic noise and odors of Miami Beach.
Designed by architecture firm Stantec, the Wix Miami office is an aesthetic treat from the minute the elevator opens into reception. The Wix sign is stenciled over a green wall, so the three letters are actually green moss. Immediately inside reception, three grownup-sized swings, with fake roses intertwined, beckon guests to come and kick their feet up.
To see more of this unique office space, visit Forbes.
https://obrmarketing.com/wp-content/uploads/2018/11/https-blogs-images.forbes.com-lenakatz-files-2018-10-WIX8259-1200x805.jpg
644
960
admin
https://obrmarketing.com/wp-content/uploads/2015/01/logo.png
admin
2018-11-05 16:48:02
2018-11-05 16:48:02
Wix and Stantec Redefine the Office