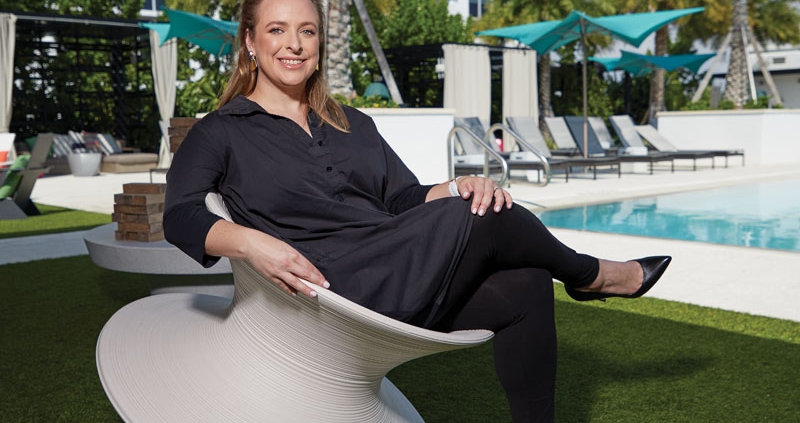 In this month's issue of AVENTURA Magazine, the magazine highlights some of South Florida's professionals who are On Top of Their Game. Stantec's Adriana Jaegerman was selected for the feature. Adriana is a managing principal for Stantec's Florida Buildings Group based in Downtown Miami. Endeavoring to bring communities together, change the conversation, and beautify the world one step at a time, Adriana strives to make a difference in her community.
Adriana Jaegerman never thought being a female executive in the male-dominated engineering field was an obstacle. "You have to trust yourself and trust what you know," says the managing principal for Stantec's Florida Buildings Group. "With time, people see beyond gender; they want people who are good at what they do," she says.
Her advice to "keep your integrity, be outstanding in your field and ultimately you'll be recognized" is something she practices daily while overseeing 150 architects, landscape architects, building engineers and interior designers at the global integrated design firm.
From a young age, family role models drove Jaegerman to accomplish much and leave the world a better place. "My grandfather was a Holocaust survivor, left Europe for Venezuela and built everything from nothing," she says, "He always said, 'You need to build a community,' and that philosophy is deeply ingrained into my soul," she says.
Jaegerman fosters collaboration for developments including YotelPad, Yard 8, Wynwood Square, Luma and Kenect Miami, which she says is an integral part of her success. "These projects are exciting, and when you can walk every inch of it and know you've designed it with a highly effective team, it's a proud moment," she says. Recently, Jaegerman and Stantec colleagues created a seminar series for a Miami-Dade County public school "to talk about the disciplines we are doing and help those kids see real longterm opportunities," says Jaegerman. It's all about building a community.
Visit AVENTURA Magazine to learn more.
https://obrmarketing.com/wp-content/uploads/2020/04/Adriana-Jaegerman_058.jpg
1200
800
admin
https://obrmarketing.com/wp-content/uploads/2015/01/logo.png
admin
2020-04-06 13:52:07
2020-04-20 15:47:46
Stantec's Adriana Jaegerman in AVENTURA Magazine