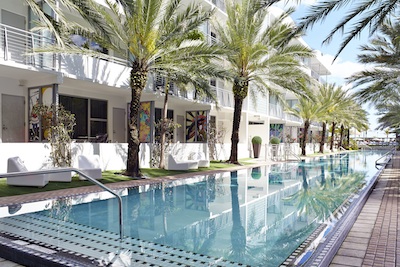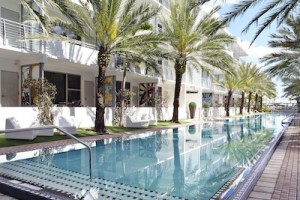 The National Hotel Miami Beach, an Art Deco landmark in the heart of South Beach, has completed an extensive $12 million renovation in 2014, restoring the hotel to its original style and glamour.
Renovations began in 2010 with the hotel's Cabana Building and continued to the original Historic Tower's spacious guestrooms, meetings, and public venues.  Throughout, the hotel has worked diligently with the Historic Preservation League in order to restore the hotel's Art Deco details.
Originally designed by renowned Art Deco architect, Roy France, in 1939, the restored hotel has faithfully maintained its historic integrity, architecture and design, offering contemporary amenities and facilities today's travelers come to expect.
"We are extremely excited to reintroduce our beautifully restored property and new programming to visitors and locals alike," stated Yaser Mohamad, the new Hotel Manager who spearheaded and managed the renovations. "The National is a true work of art, a family-owned historic hotel that offers guests anticipatory service and comfort in serene tranquility. We look forward to welcoming our new guests and having our loyal following discover us all over again."
MULTI-MILLION DOLLAR RENOVATION  
The National Hotel's public areas were thoroughly restored, to include original terrazzo flooring, ceilings, railings, light fixtures and furniture completely reinstated to its original luster. The lobby's main column was enveloped with gold and black Murano glass mosaic tiles, fashioned during the period. Chrome pendant lights and fans were added to Tamara Bistro's outdoor terrace and roll-down curtains were built in for privacy. A new color palette, stucco and finish were added to the exterior of the hotel's 13-story tower. Wind resistant and noise buffers were added to windows to protect the building and maximize comfort.
The hotel's renovated guestrooms convey a nod to the era with custom-designed, exotic hardwood furniture, antique clocks, and chrome-plated accents and finishes. Bathrooms were completely remodeled with vanities in rich mahogany wood with showers in pale green terrazzo, accented by white tiles and gray terrazzo flooring. The hotel's unique Triple-Level Penthouse has been refurnished with distressed leather furniture, Art Deco-inspired fixtures and vintage artwork. An outdoor deck will be added to the penthouse in order to accommodate private events and dining.
With over 4,000 square feet of indoor and covered outdoor space, the longest infinity-edge pool on Miami Beach and expansive outdoor lounge and entertainment space, the National has served as the backdrop to countless corporate meetings, events and celebrations, and is one of Miami Beach's most popular destinations for weddings.
Two of the hotel's signature event spaces were renovated. The terrazzo floors of the "Oval Room", the main ballroom, was restored to its 1939 origins and a new 3,000 hand-cut, crystal chandelier is now the focal point of the majestic room. The private Martini Room was completely remodeled with new French doors that lead to the outdoor terrace, and new additions include an Art Deco-style wall unit and window treatments.
NEW FOOD AND BEVERAGE PROGRAMMING:
The National's food and beverage programming was also revamped with distinctive entertainment, dining and lounge options that establish the property as a destination for live jazz and blues.
The new programming will include a monthly Jazz Sunday Brunch in the hotel's signature restaurant, Tamara Bistro, with live music by storied and up-and-coming jazz artists. Blues Bar Cocktail Hour offers sophisticated, retro live entertainment on Wednesday nights and Apres Soleil – French for After Sun – features a vibrant retro ambiance on Fridays with live jazz and blues, and unique vintage cocktails at vintage prices.
ABOUT THE NATIONAL HOTEL MIAMI BEACH:
The National Hotel Miami Beach is an iconic Art Deco landmark located in the heart of South Beach. Opened in 1939, theoceanfront resort combines the style and glamour of the Deco era with contemporary luxury. After renovations were completed in 2014, this family-owned, timeless hotel has been meticulously restored to its original grandeur.
The 152-room hotel is a work of art, with a renowned collection of Art Deco artifacts, a 205-foot infinity-edge pool, beautifully designed guestrooms, and a truly unique three-story penthouse. Combined with modern conveniences and impeccable, anticipatory service, the National delivers a vintage Miami Beach experience for modern times and the discerning traveler.
Located at 1677 Collins Avenue, the National is in close proximity to the area's most noted shopping, restaurants, sightseeing, arts, lifestyle and cultural attractions.
The National Hotel has been awarded with the prestigious AAA Four Diamond and Forbes 4 ½ Star. It is affiliated with Preferred Hotels & Resorts and was recently inducted into Historic Hotels of America. The National Hotel is a sister property to the distinguished Hotel de Paris, St Tropez, which was fully renovated in 2013. For more information, please visit www.NationalHotel.com or call (305) 532 – 2311.
https://obrmarketing.com/wp-content/uploads/2014/05/NationalHotel_020513_0966-copy1.jpg
267
400
admin
https://obrmarketing.com/wp-content/uploads/2015/01/logo.png
admin
2014-05-06 16:32:59
2015-01-11 18:19:19
Iconic National Hotel Miami Beach Re-Launches with Multi-Million Dollar Restoration and New Programming