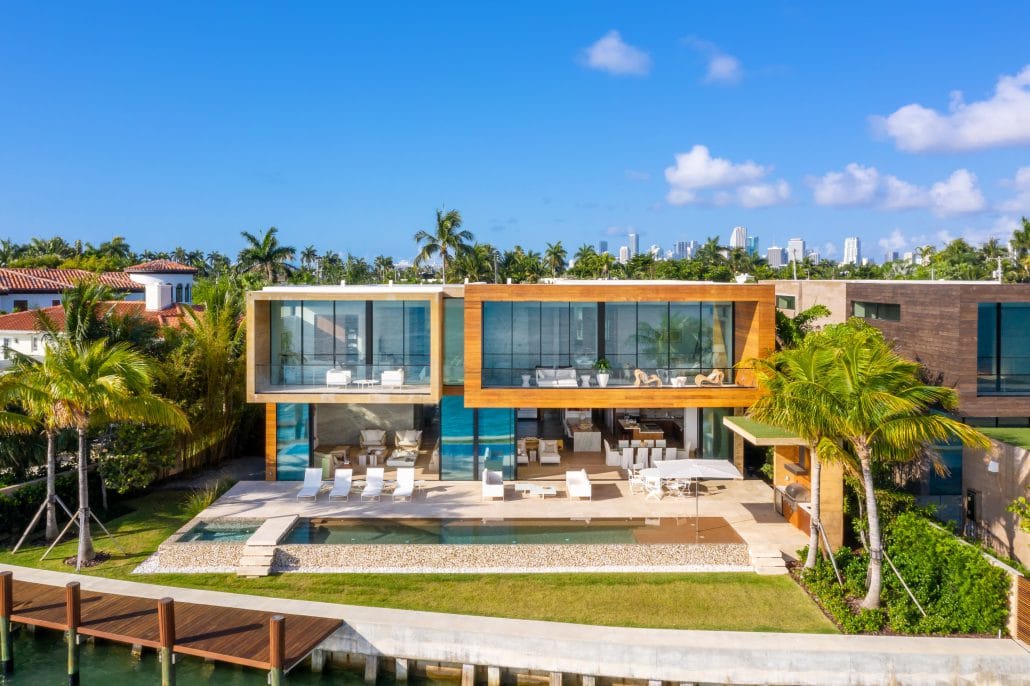 Miami-based architects Choeff Levy Fischman have delivered yet another waterfront masterpiece. Situated on Miami Beach's coveted Di Lido Island, the residence features a rare post-tension structural system typically found in high-rise developments.
The $18.8 million residence captures CLF's signature Tropical Modern style through the use of repetitive board-formed concrete, wood, and exotic stone both indoors and outdoors.
Miami is full of over-the-top real estate listings, from celebrity listings to island abodes. The latest to cross our desk is this seven-bedroom, eight-bath stunner situated on Miami Beach's Di Lido Island. Designed by architects Choeff Levy Fischman and first on the market last October, the 7,828-square-foot house recently took a $1,200,000 price cut.
The unique home uses a post-tension structural system usually found in high-rise developments; the system eliminates the use of structural beams and allows for maximized ceiling heights on multiple levels. It also takes advantage of the home's best asset: Unobstructed views of Biscayne Bay.
For more information, visit Curbed.
https://obrmarketing.com/wp-content/uploads/2019/04/Unknown-2.jpeg
1706
2560
admin
https://obrmarketing.com/wp-content/uploads/2015/01/logo.png
admin
2019-04-29 16:09:56
2019-04-29 16:09:57
Choeff Levy Fischman Waterfront Stunner Featured on Curbed