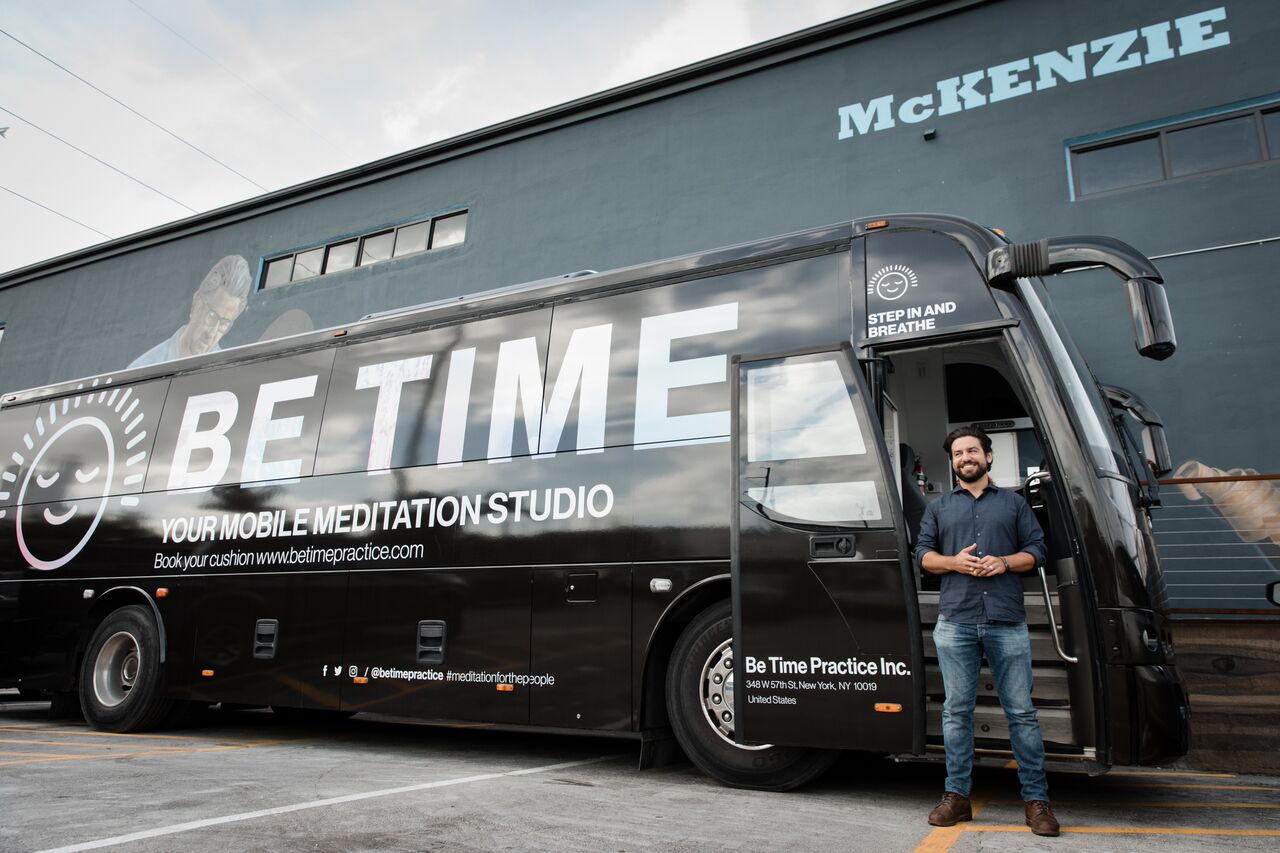 New York City is home to high-strung investment bankers, overworked executives, and countless entrepreneurs with busy, fast-paced lifestyles synonymous with the Big Apple. Determined to bring mindfulness and peace to the city that never sleeps, Carla Hammond, an experienced nonprofit employee for startups across New York, commissioned Miami-based McKENZIE to convert a mid-size Temsa TS35 coach bus into BE TIME, New York City's first-ever unique and upscale mobile meditation studio.
Officially rolling into the streets of New York today, BE TIME will provide busy New Yorkers a quiet, cozy space where they can practice meditation and get away from their hectic schedules. Read more about the bus and McKENZIE's work in designboom below.
The people of New York City will be receiving its first-ever unique mobile meditation studio this month. BE TIME, CEO and founder, Carla Hammond, an avid non-profit worker in the new york to many start-up organizations for many years found her love for meditation and wellness at the age of 15 and now busy with twins, decided to build a distinctive meditation studio to bring mindfulness to busy new yorkers at their convenience — BE TIME will offer a launch event to the general public on Monday, January 22nd at Madison Square Park for free classes 8am-2pm.
BE TIME has been created to provide a space that is quiet, cozy, unexpected and can hold people in their meditation practice while taking a break from busy days. The moving studio will have experienced instructors guiding in-person meditation classes at 30-minute intervals. Because the BE TIME is mobile, its able to access more people and more places. 'You move, we move,' Carla says. On top of the 30 minute guided practices, BE TIME will also offer 'open space' hours where meditators are welcome to hop in and perform their own practice. BE TIME invites people to come in, and take a breath from the urban hustle while in a serene space that incorporates self-care bonuses: aromatherapy, light + chromotherapy and weighted blankets to add to your meditation experience. BE TIME is a fully transformative 30 min 'mind break' with extra add-ons to help soothe you through the practice.
The BE TIME bus was designed by a power duo couple of architects (Rolando Rodriguez Leal and Natalia Wrzask), founders of Aidia Studio. The duo has worked with Zaha Hadid, Jean Nouvel's Louvre in Abu Dhabi and more. McKENZIE, a Miami-based boutique design, build and custom fabrication firm partnered with Aidia Studio to make the design vision come to life. McKENZIE transformed the vehicle into a high-tech mobile studio through the custom fabrication of unique laser cut wall panels, and coordination of the design of all the audio and lighting components, ensuring all the complex design features came together harmoniously. Additionally, they built out all technicalities in the process: generators, sound insulation, extra-air conditionings, best systems to sustain paneling and led structure.
To read the full story, visit designboom.
https://obrmarketing.com/wp-content/uploads/2018/01/BeTimeJanuary-07-2018MROY0884_preview.jpeg
853
1280
admin
https://obrmarketing.com/wp-content/uploads/2015/01/logo.png
admin
2018-01-22 11:45:52
2018-02-20 12:39:56
McKENZIE Transforms Bus Into BE TIME, A High-End Mobile Meditation Studio Serving Busy New Yorkers