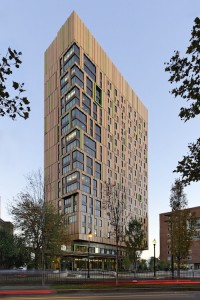 There is a new architectural landmark in Boston's skyline, a $52 million residence hall that personifies the Massachusetts College of Art and Design (MassArt). Designed by architecture firm ADD Inc, the tower doubles the college's housing capacity and provides an innovative environment where 493 students can live, study and play at affordable, state college rental rates.
The design of the new residence hall exemplifies ADD Inc's innovative process. Designers drew on the best ideas from junior and senior staff members to harmonize the goals and aspirations of college professors, administrators, students, trustees, alumni and the building's owner, the Massachusetts State College Building Authority (MSCBA). ADD Inc conducted in-depth benchmarking, hosted focus groups and design charrettes, and developed full-scale mockup units for students to explore and critique.
"MassArt wanted the building to stand out in the Boston skyline and meaningfully identify them as an art college," said B.K. Boley, lead architect and principal, ADD Inc. "It was the students' idea that the building look like a painting and that it be just as colorful and vibrant as they are. ADD Inc suggested Gustav Klimt's "Tree of Life" which helps convey the school's rebirth and continuation." In September, the incoming student residents voted to nickname the building, "The Tree House".
The 21-story, 145,600 square foot building features a ground floor café and living room, a second floor health center, and a third-floor communal "Pajama Floor" with kitchen, game room, laundry facilities, and fitness center. The rest of the 17 floors are made up of 136 suites configured in single, double and three-bedroom layouts.  Click here for more information: http://www.prweb.com/releases/2013/3/prweb10490059.htm
[portfolio_slideshow]
https://obrmarketing.com/wp-content/uploads/2015/01/logo.png
0
0
admin
https://obrmarketing.com/wp-content/uploads/2015/01/logo.png
admin
2013-03-05 21:14:16
2015-01-12 01:13:32
ADD Inc Creates New Architectural Landmark in Boston Skyline